MODERNIZING FROZEN EGG AND EMBRYO MANAGEMENT
MODERNIZING FROZEN EGG AND EMBRYO MANAGEMENT
MEETING YOUR GROWING NEEDS FOR SCALE, EFFICIENCY, AND SAFETY
TMRW's technology enables fertility clinics to identify, track, and monitor patient specimens at scale with a new level of safety, efficiency, and transparency.
Handwritten or typed labels


Manual storage and retrieval process
Automatically generate uniquely identified labels
Automated workflow and integration with your EMR to eliminate double entry
Automatic storage and retrieval process
Proactive and redundant 24/7 cloud-based monitoring by Overwatch®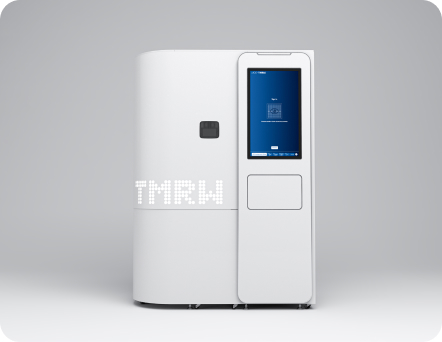 IN-CLINIC
On-site storage solutions house ~1,100 - 3,200 patients per robot.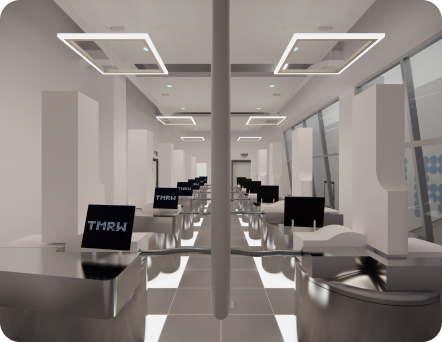 OFFSITE CRYOBANK
Off-site solutions house large-scale collections of frozen eggs and embryos, freeing up precious lab space.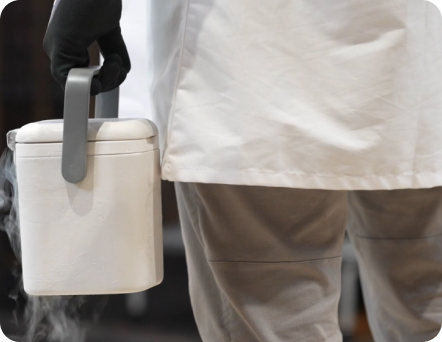 HYBRID MODEL
Many clinics combine our in-clinic and off-site solutions to solve their day-to-day and long-term storage needs.
Meet patient demand for transparency and reduce the risk of mix-ups and loss.
Increase patient throughput and optimize lab workflow to address embryologist fatigue.
Unique opportunities to reduce costs and increase revenue.
WHAT TMRW CLINICS ARE SAYING
"TMRW's technology is the single most important IVF advancement in recent years. There is simply no other way to continue to scale high-quality patient care without the technology and automation that TMRW provides."
Amber Cooper, MD, MS
Chief Genomics Officer, Kindbody
"TMRW's automation, HIPAA-compliant data encryption, and RFID technology create an entirely new standard of care and safety."
David Stern
Chief Executive Officer, Boston IVF
"When I had my first glimpse of TMRW, it was breathtaking. I can't think of a single IVF practice that could not utilize TMRW."
Tanmoy Mukherjee, MD
Co-Director, RMA NY
"Our company was the first in the world to embrace TMRW technology because we know how important peace of mind and this protection is for patients."
Angie Beltsos, MD
CEO, Clinical Kindbody
"Visionary investment in scientific technology, like TMRW, will lead to a new standard of care that can provide clinics and patients with peace of mind."
Jason Swain, PhD, HCLD
Chief Laboratory Officer, CCRM Fertility
"TMRW brings state-of-the-art technology to an area of the reproductive lab that has been slower to innovate."
Serena H. Chen, MD
Founding Partner, IRMS
"At Boston IVF, our mission is to help build families. Since our founding in 1986, we've been leading the way and working with innovative companies like TMRW to improve outcomes for patients."
Michael Alper, MD
Medical Director, Boston IVF
"The TMRW system will give me peace of mind - knowing they're also watching over my specimens 24/7 will let me sleep better at night. I love the transparency that TMRW offsite storage technology will bring - they're still my patients, but they're safely stored in their facility."
Charlene Alouf, Ph.D., HCLD
Lab Director, Reproductive Science Center of New Jersey
"TMRW's state-of-the-art technology is transforming the industry, making lab processes safer and more transparent, so patients and doctors have one less thing to worry about."
Bill Venier, M.Sc., TS, ELD (ABB)
Lab Director, San Diego Fertility Center
"We take pride in investing in the world's best technology to serve our patients. And, there's no doubt, when it comes to the safe management of the frozen eggs and embryos used in IVF, TMRW has set the gold standard."
Glenn Proctor, MHA
Co-Owner & Director of Laboratories, Conceptions
"The bottom line is that TMRW's technology makes my team's job easier. It's user-friendly, provides real-time tracking and inventory, and TMRW's round-the-clock monitoring reassures us that the specimens under our care are safe."
Richard Slifkin, TS(ABB), CLT(NYS)
Clinical Embryology Associate Laboratory Director, RMA New York
"This advanced and secure storage system will help afford patients peace of mind, and I know it will immediately become the standard for all high-quality IVF labs."
Mark Bush, MD
CEO and Medical Director, Conceptions